How to configure proxy settings on FoxyProxy extension (Chrome)
1. Open Chrome.
Once installed, click on the FoxyProxy extension icon in the upper right corner of your Chrome browser.
2. Press 'Options'
*If you cannot get the 'Options' page to open when clicking 'Options', check to make sure you don't already have the 'Options' page open in another tab.
4. From the 'Options' page, click on 'Add New Proxy'.
5. In the 'Host or IP Address field' enter: gw.ntnt.io
6. In the 'Port' field enter: 5959
**Make sure not to select 'Save Login Credentials' from these settings.
Click Save to commit the settings.
7. You can now enable the FoxyProxy extension and choose the proxy setting you created by:
• Clicking on the FoxyProxy extension in the right-hand corner of the browser window
• Selecting 'Use proxy gw.ntnt.io:5959 for all URLs'.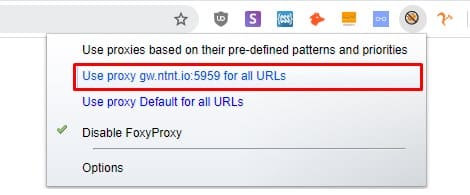 How to sign in and specify country
1. Open a new browser window.
You will be prompted to sign in by using your NetNut username and password.
It is here that you can choose your country by following this format in the username field (see available countries)
2. Choose a country by entering the country code (cc) at the end of the username like this:
United States: username-cc-us
Germany: username-cc-de
Spain: username-cc-es

In this example, you are requesting an IP from the United States (US)
• If you want to automatically rotate between random countries, replace the country code in the username with 'any'
username-cc-any

Verifying the proxy is working
Now that you are signed in, you can check your IPs location and other details with ipinfo.io:
Here you can see that with the US in our username field, the proxy IP is located in the US.

Sticky / Static IP
Add to the username the following:  
username-cc-[country_code]-sid-[number from 1 to 99999999]
(remove brackets "[ ]" )
For example – NetNut-cc-us-sid-12345678:password
**The chosen number should be of minimum 5 digits, and maximum 8 characters long. 
Done! You can now explore the web using NetNut proxies
with your FoxyProxy Chrome extension.
Senior Growth Marketing Manager